A :bullish factors:
1. According to Zhejiang New Aluminum Technology Co Ltd 's Consulting, Yunnan aluminum enterprises received an official document notice over the weekend, except for an aluminum plant in Wenshan, the overall reproduction ratio is not less than 20%, which theoretically affects the electrolytic aluminum production capacity of about 810,000 tons. Yunnan boots landing, short - term supply constraints are obvious.
So we can see the aluminum ingot price price has risen suddenly today .
2. This week, the operating rate of downstream processing enterprises continued to rise. With the slight correction of aluminum prices, the purchasing sentiment in the spot market improved, and the mainstream consumption premium continued to narrow. This Thursday aluminum ingot inventory turning point, aluminum rod inventory continued to fall. The consumer end continues to improve.
B :negative factors:
1. Several Fed officials sounded hawkish last week. They agreed that the Fed should keep raising market interest rates to curb inflation, with some even suggesting that the Fed could raise its key rate above 5.5%. Dollar index again higher, pressure on the nonferrous sector.
2. The cost of electrolytic aluminum has fallen further. At present, the pace of alumina production is fast, and the price is stable and slightly decreased. Domestic thermal coal supply continues to improve, and electricity costs have fallen. Pre-baked anode price also decreased slightly, the current full cost has fallen to 17200 yuan/ton near.
Summary:
     The Fed released hawkish signals, the US dollar index recovered slightly, the nonferrous sector pressure. However, domestic demand continues to repair, macro should not be pessimistic. The fundamentals of Yunnan production boots landing, and production production slightly exceeds expectations of the supply side constraints exist in the long term. Downstream consumption continued to improve, and the operating rate of processing enterprises picked up significantly. At the same time spot trading sentiment warming up, the rise of the discount narrowed significantly. Last week electrolytic aluminum social inventory turning point appeared, aluminum rod inventory showed a large decline. There are signs of continued recovery in terminal demand. The decline in the cost end does not mask the fact that the fundamentals are better, aluminum prices still have rebound momentum.
So if you have any interest or demand for the Aluminum material ,please feel free to contact us any time ,we will feedback to you within 24 hours .
 Professional make perfect ,Let us do more together !
Mr Aloys
The Export Manager 
Whatsapp:0086 150 2440 2133 
Zhejiang New Aluminium Technology Co.,Ltd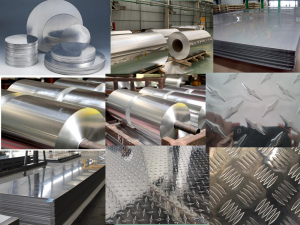 ---
Post time:Feb-20-2023
Previous:
Indian miners requesting government to increase import duties on aluminium items from China